Top Stories
Agnipath aimed at giving military training to RSS cadre: Congress leader G Niranjan | Hyderabad News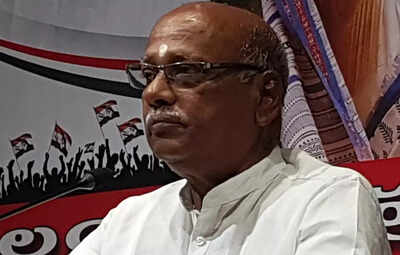 Telangana Congress's senior vice president G Niranjan.
HYDERABAD: The Congress has alleged that the BJP government is trying to saffronise the armed forces through its Agnipath scheme.
Telangana Congress's senior vice president G Niranjan said there are doubts that the Agnipath scheme has been brought mainly to train the RSS, Bajrang Dal and BJP members in military combat and demanded that the top BJP leaders including Prime Minister Narendra Modi and Union defence minister Rajnath Singh should give clarity on this allegation to the people of this nation.
What does the BJP want to do with the saffron brigade which would be fully trained in military combat and would be on the roads without jobs after four years of Agnipath contract, he asked?
The Congress leader said the youth are looking for a lifetime career in the armed forces as such they are against the short term Agnipath scheme. "It looks like there is a conspiracy behind coming out with the Agnipath scheme by the BJP government to provide military training to the cadre of BJP, RSS and Bajrang Dal with the government funds and to use them in their future plans," Niranjan alleged.
It is unfortunate that the Army chief himself was present in national media the other day which is against the military rules. Prime Minister Narendra Modi should take responsibility for future consequences if anything happens due to Agnisainiks hitting the roads after four years contract in the armed forces and coming out without any employment in their hands, the Congress leader said.
Stating that the recruitment rally notification issued by the Army yesterday clearly indicates that this scheme is detrimental for the country as well as the youth. "The notification clearly states that Agni sainiks will be sent back after four years and they have to apply afresh for regular service after this period. The reservation of 25% purely depends upon the military discretion and agni sainiks appointment will depend upon the future requirements and future policies of the armed forces,@ said Niranjan.
The youth are disappointed with the Agnipath scheme and even the parents of most of the youth are not in favour of their children joining the short-term Agnipath program. The notification also clarifies that there will be no pension, gratuity, health scheme, canteen and store facilities for agni sainiks and the participant will not be treated as an ex-serviceman.
FOLLOW US ON SOCIAL MEDIA
FacebookTwitterInstagramKOO APPYOUTUBE
Source link