Top Stories
Andhra Pradesh: Congress spokesperson Dasoju Sravan quits party | Hyderabad News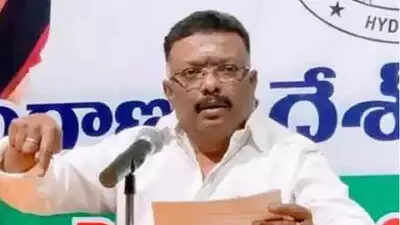 After resigning from the Congress, Dasoju Sravan did not disclose which other political party he was going to join. (File Photo)
HYDERABAD: Three days after Komatireddy Raj Gopal Reddy's exit from the party, the Congress suffered another setback on Friday with All India Congress Committee spokesperson Dasoju Sravan announcing his resignation from the party holding Pradesh Congress Committee president A Revanth Reddy responsible for his decision.
However, he did not announce which other political party he was going to join.
To queries whether he was leaning towards BJP, he said: "I will inform you about my next move as soon as it is decided. To protect my self respect, to free Telangana from the clutches of KCR and to work towards fulfilling the dream of Telangana people, which is not possible with the Revanth-led Congress, I am resigning to Congress membership and its posts," he said.
Raj Gopal too had blamed Revanth for leaving the party. His elder brother and Bhuvanagiri MP Komatireddy Venkat Reddy too is spitting fire against Revanth and has said he does not want to see his face.
The Congress leadership, which was taken by surprise with Sravan's decision, rushed a team of senior leaders including working president Mahesh Kumar Goud and All India Kisan Congress vice-president M Kodanda Reddy, whose last-minute persuasion failed to keep Sravan in the party.
Sravan charged that AICC in-charge of Telangana Manickam Tagore and poll-strategist Sunil Kanugolu of sailing with Revanth.
"Revanth is behaving like a feudal and weakening the original Congress leaders and party loyalists especially the SC, ST, BC leaders. I have come into politics to serve the poor and downtrodden. I refused to get enslaved and will fight against Revanth as I had quit TRS to fight against KCR," Sravan said.
Sravan was unhappy with Revanth for not consulting him before welcoming TRS corporator and former Congress minister late P Janardhan Reddy's daughter P Vijaya Reddy into the party.
Stating that he suffered humiliation for a year after Revanth was appointed TPCC chief, he said Revanth started behaving as if he bought a franchise of the Congress. Revanth has been taking unilateral decisions and is working against social justice in the party.
Dasoju Sravan had joined Congress in April 2014. Earlier, he was with PRP and then TRS and participated in statehood agitation before joining the Congress.
Revanth's casteist remark that Reddys are better rulers has done much damage to the party with BCs, SCs. STs starting to distance themselves from the Congress. He does not consult party seniors. "I had complained about it in the meeting with Rahul Gandhi too but nothing happened," Sravan said and added it is with pain he was leaving the Congress and thanked Sonia Gandhi, Rahul Gandhi and other senior leaders in the state for their support to him all these years.
FOLLOW US ON SOCIAL MEDIA
FacebookTwitterInstagramKOO APPYOUTUBE
Source link