Top Stories
Be wary of divisive forces, says Telangana CM K Chandrasekhar Rao | Hyderabad News
HYDERABAD: Being the one who fought for the creation of Telangana, chief minister K Chandrasekhar Rao on Saturday appealed to people to rise to the occasion and save Hyderabad. "If peace is disturbed, real estate and property prices will fall and businesses will be affected. We will not get investments and youth will not get employment opportunities," he said, at a well-attended public meeting at LB Stadium.
The TRS president went on to read his message 'Save Our Hyderabad' in Telugu, English and Hindi, drawing loud cheers. In his 55-minute speech, the CM spoke on the law and order in Hyderabad and listed various welfare measures implemented by his government. He said: "For KCR, big leaders are coming from various states like a flood. I am wondering are we fighting a municipal election or a national election?"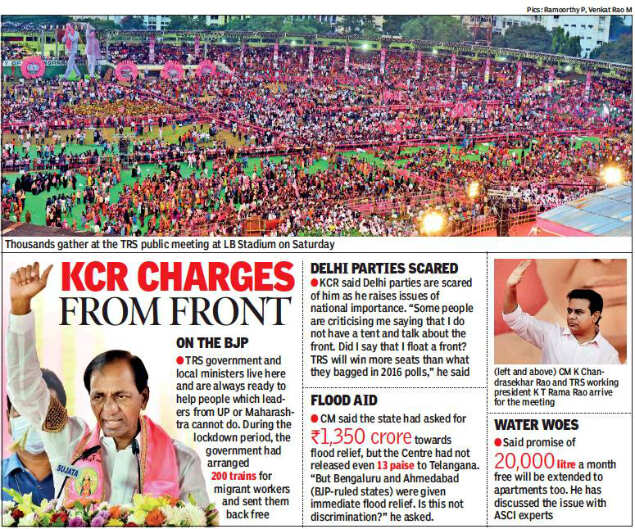 Taking potshots at his Uttar Pradesh counterpart Yogi Adityanath, KCR said Telangana today is in fifth position per capita income in the country while UP stands 28th. "He (Adityanath) who could not set his house in order has come here to teach us on administration. Similarly, former Maharashtra CM (Devendra Fadnavis) campaigned here. His state occupies 10th place," he said.
KCR said Hyderabad is a cosmopolitan city where people from different religions, communities and castes live together for centuries like a 'guldasta'. Urging people to vote for the TRS, he promised to take the responsibility of developing Hyderabad into a world-class city.
BJP chief spokesperson K Krishna Saagar Rao said the CM's speech exposed his fear of losing the GHMC elections. "The voters will reject his weak and hapless talk of communal disturbances," he said.
Source link