Top Stories
Drug-resistant Bacteria Thriving At Hosps: Docs | Hyderabad News
HYDERABAD: Not following proper protocol before prescribing antibiotics is the primary reason for an increase in drug-resistant bacteria thriving in hospital settings, say experts.
At the Malakpet Area hospital, where two women lost their lives and several were infected following C-section surgeries, two different types of drug resistant bacteria were found pseudomonas and staphylococcus.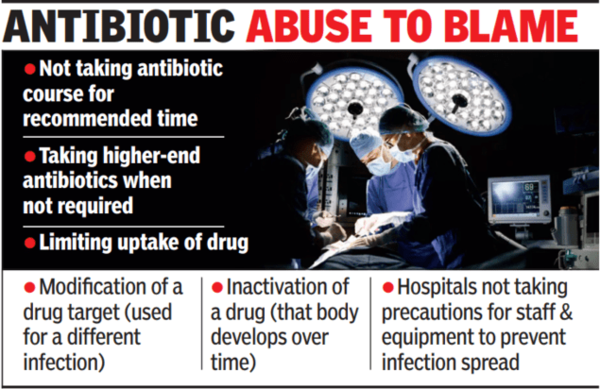 Antibiotic resistance occurs when bacteria develop the ability to defeat or make ineffective the drugs developed to kill them. Experts say the danger of hospital-acquired infections is high with at least one-third of patients in ICUs suffering from a pan drug-resistant bacteria in most tertiary care setups. The risk is even higher when patients stay longer than seven days, when barrier nursing care which ensures precautions are taken to prevent spread of infections is not followed.
Indwelling catheters such as tubes for urine, food intake, intravenous and arterial lines and dialysis sheaths are among equipment that can enable spread of hospital-acquired infections.
Doctors warn that patients too can put themselves at risk by not following instructions. Dr Dilip Gude, senior consultant physician, Yashoda Hospitals said, "Not taking antibiotic course for recommended duration, taking higher-end antibiotics when not required pave way for antibiotic resistance." He said other factors include limiting uptake of a drug, modification of a drug target (used for a different infection than what it is intended for) and 'inactivation' of a drug (that body develops over time).
"We have indeed hit the end of the road when it comes to newer antibiotics. In the last decade the number of new or next generation antibiotics discovered or manufactured is almost close to zero," said Gude, adding, "This means the bacteria causing sepsis will not listen to the available antibiotics leading to septic shock and even death."
In fact the pandemic has added to antibiotic abuse, making things worse. "During Covid, we saw a lot of misuse of antibiotics and people were prescribed antibiotics even for three days of fever.
Many even took it on their own without consultation. Antibiotic misuse is rampant in rural areas and everywhere in our country due to easy access.
In most hospitals in the city we are encountering a situation where most of the pathogens have developed resistance to most available antibiotics," said Dr Burri Ranga Reddy, president, Infection Control Academy of India, adding that in such a case higher level of antibiotics are required to treat even less dangerous pathogens and this again further adds to antibiotic resistance.
Source link