Top Stories
Hyderabad: 50-ft eco-friendly Khairatabad Ganesh appears in Panchamukha Maha Laxmi Ganapathi | Hyderabad News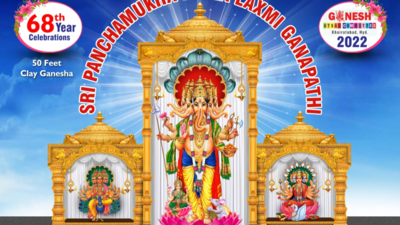 Khairatabad Jumbo Ganesh poster on 'Panchamukha Laxmi Ganapathi' was released in Hyderabad on Monday.
HYDERABAD: This year, the popular Jumbo Khairatabad Ganesh will bless the devotees and the theme, which is selected is, 'Panchamukha Maha Laxmi Ganapathi.'
It is a decades-old tradition that every year, the Khairatabad Ganesh Utsav Committee selects a different theme for the idol. This is (2022) the 68th year that Khairatabad Ganesh has crossed his journey, which started in 1954, with a one-foot-tall idol.
On Monday, the members of the Khairatabad Ganesh Utsav Committee unveiled a 50-ft jumbo Ganesh poster, made of clay.
Apart from jumbo Ganesh idol, the committee also unveiled another two clay idol posters, too. On the right of the main 50-ft tall Ganesh idol, Sri Shanmukha Subramanya Swamy idol and Sri Trishakti Maha Gayatri Devi idol on the left side of the idol will be built. These two idols' height is around 18 to 20 ft and would be made of clay, organiser, Khairatabad Ganesh Utsav Committee, S Raj Kumar, told TOI, after releasing the posters at Ganesh pandal.
"On the immersion day, all these trio idols will be carried on a specially designed trolley up to Hussain Sagar (known also Vinayaka Sagar) through a procession and put them on a platform. Then, water will be sprinkled to melt the clay idols, instead of immersing them," said organiser, S Raj Kumar.
The clay will be distributed to the devotees either to use for gardening purposes or to make small Ganesh idols to keep at their worship place in their homes, added Raj Kumar.
Over 100 artisans from Telangana, Andhra Pradesh, Tamilnadu, Odisha and West Bengal, would take part in the making of idols, replied Raj Kumar.
Raj Kumar also admitted that this year too, Khairatabad Jumbo Ganesh may likely get 'Tapeswaram laddu' prasadam as every year used to donate by Tapeswaram (East Godavari district) sweet maker, Malle Babu at a free of cost.
FOLLOW US ON SOCIAL MEDIA
FacebookTwitterInstagramKOO APPYOUTUBE
Source link