Top Stories
Hyderabad: Agents need not be from polling station area, says HC | Hyderabad News
HYDERABAD: Stating that it is not fair to insist that a contesting candidate must nominate his or her polling agents who are voters of that particular polling station area alone, Justice A Abhishek Reddy of the high court on Saturday directed the State Election Commission and GHMC officials to allow those from within the ward.
The judge gave this interim order after hearing a plea by Sunitha, an independent candidate from Ghansi Bazar ward. Her counsel Anjali Agarwal said the candidate has persons all over the ward and she should be able to deploy them as polling agents in her ward.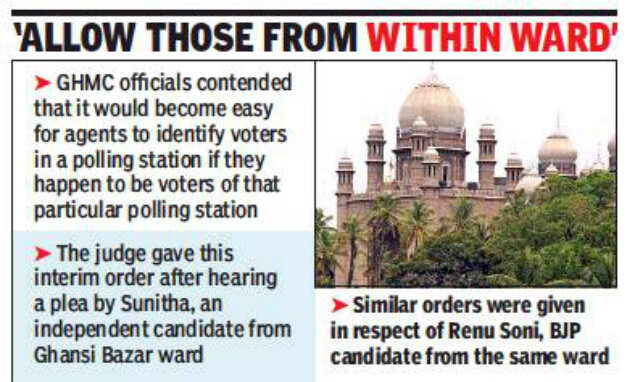 On the other hand, GHMC and election commission officials had contended that it would become easy for the polling agents to identify voters in a polling station if they happen to be voters of that particular polling station. The judge said that if the candidate finds it difficult to find a person from the purview of a polling station, he or she should be able to deploy one from other polling stations located within the same ward.
Another contesting candidate Charakula Sugandha Pushpa from Langar Houz too was given permission by the court to appoint persons from her ward as polling agents in various polling stations in the ward. They should be voters of that ward and they need not be voters from the polling station they were sent to work with. The judge, however, said the court orders were applicable to petitioners only.
Source link