Top Stories
Hyderabad: Third accused found dead in Keesara tahsildar graft case | Hyderabad News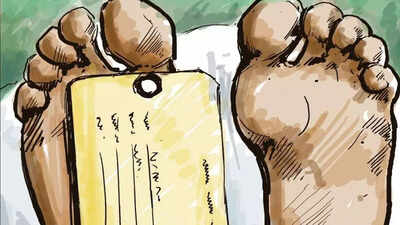 HYDERABAD: Another accused linked to the sensational Keesara tahsildar Anti-Corruption Bureau (ACB) trap was found dead at his residence at Nagarjuna colony in Kushaiguda on Sunday.
Srikanth Reddy was an accused in the second case slapped against tahsildar EB Nagaraju. The family, however, said that they did not suspect any foul play. Incidentally, it is the third death in the case.
In August 2020, ACB trapped then Keesara tahsildar Nagaraju while accepting Rs 1.10 crore alleged bribe for an official favour. A second case was booked by ACB against the tahsildar based on vigilance and enforcement (V&E) report which revealed that he illegally issued a pattadar passbook for 24 acres and 16 gunta in Rampally village. In this case, five others, including Srikanth and his father Dharma Reddy, were named accused.
Subsequently, Nagaraju hanged himself in Chanchalguda prison while in judicial remand in October 2020. Three weeks later, Dharma Reddy hanged himself from a tree at a local temple.
Srikanth's mom: Do not suspect any foul play
Now, nearly two years after the two suicides, Srikanth (37) was found unconscious on the floor at his residence by his mother Venkatamma on Sunday. She informed police that she did not suspect any foul play and stated excess alcohol could be the reason for his death. Ever since his father Dharma Reddy's suicide, Srikanth had been staying with his mother at their residence.
"Since Srikanth quarrelled frequently with his mother, she used to stay with her daughter. She came to their Nagarjuna colony residence to clean the house once every two days. On Sunday, she went to the house and started cleaning the premises. On seeing that the tap was open, she knocked on the door. But as there was no response from Srikanth, she forcibly opened the door and found him lying on the floor," Kushaiguda inspector Man Mohan said. Kushaiguda police have registered a case under Section 174 (suspicious death) of the Criminal Procedure Code (CrPC) and are waiting for the post-mortem report.
FOLLOW US ON SOCIAL MEDIA
FacebookTwitterInstagramKOO APPYOUTUBE
Source link