Top Stories
KT Rama Rao hard sells Hyderabad progress, takes aim at BJP | Hyderabad News
HYDERABAD: TRS working president KT Rama Rao dared BJP leaders to get ₹1 lakh crore package for Hyderabad from the Centre.
While asking the party candidates and leaders to expose how the Centre has not done anything for Telangana, KTR also urged them to highlight what the TRS government has done for the people in the last six years.
"The Centre has shown empty hands to the state when it sought flood relief. State BJP leaders have promised to give ₹25,000 to each flood-affected family. The state BJP chief says if their party wins the election, the GHMC will clear pending traffic challans in the city. In Gujarat, is the party doing the same?" he wondered.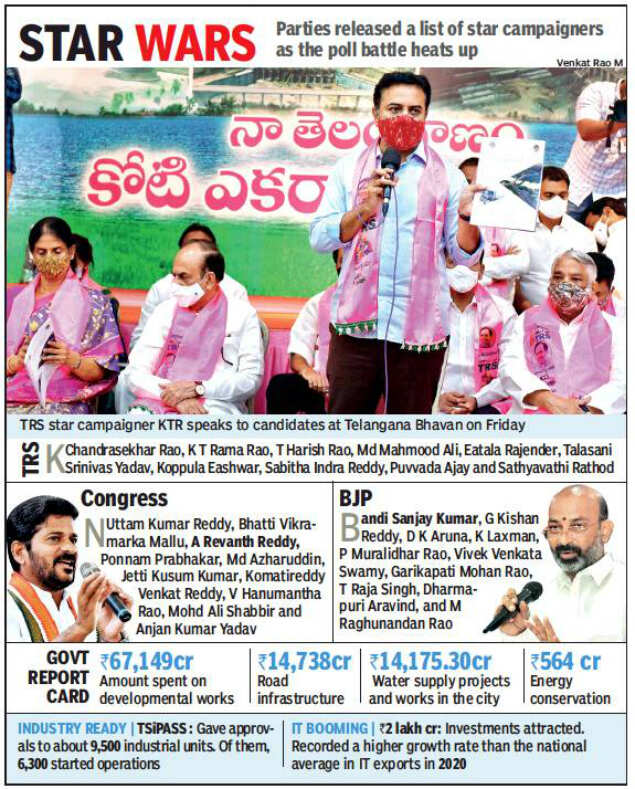 KTR, who released 'Hyderabad Development Report' and addressed the party candidates at Telangana Bhavan on Friday, asked them to visit every house and generate a debate on development vs divisive politics. "This is a crucial election for the TRS," he said. He said since there is less time for campaigning, the candidates must strive hard to secure at least 100 wards. The party had won 99 wards in the 2016 elections.
In the development report titled 'Hyderabad, the rising global city,' the TRS highlighted developmental works costing ₹67,149 crore in infrastructure, road development, housing, police and law and order, link roads, green Hyderabad, lakes conservation, parks development, power supply and water supply, basti dawakhanas, T-Hub, IT growth, industries and Annapurna canteens, besides Strategic Road Development Plan. He urged the candidates to explain to people how the state government had taken steps to make Hyderabad a true global city. "We should tell anybody can make a livelihood in Hyderabad without fear. I am also not a Hyderabadi but I have settled here," he said.
The TRS working president said the government has covered all the sectors and wings for inclusive development. "The state government provided free rail transport to migrant labourers during the pandemic whereas the Centre collected money from the workers. You should highlight this during meetings with voters," he said.
Source link