Top Stories
Labour Crunch Hits Hyd's 2bhk Housing | Hyderabad News
HYDERABAD: While the construction sector is up and running across Hyderabad, the TRS government's plans to construct one lakh 2BHK houses for the poor seem to have hit a pause button due to labour shortage and other issues.
According to an RTI query filed by city-based civic activist Robin Zaccheus, out of the 49 2BHK housing projects planned across Greater Hyderabad Municipal Corporation (GHMC) limits, only eight projects in Sainagar, Bandlaguda, Kulsumpura, Bogaram and Adarsh Nagar are in operation.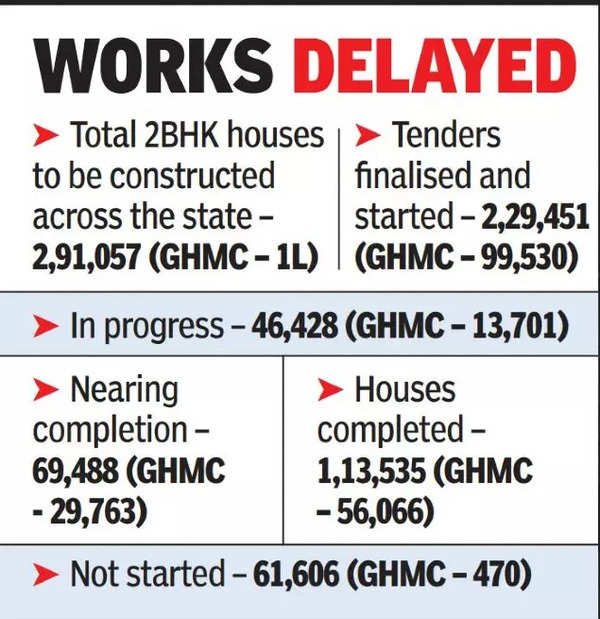 Status of works pertaining to 2,691 housing units is delayed due to non-availability of labour and Covid-19. Other reasons for the delays in the 2BHK projects include disputes between the GHMC and the construction company, which is seen in four projects. In four areas, the project came to a standstill due to a court case.
In Bandamaisamma and Ambedkar Nagar, works could not take off as 'beneficiaries refuse to vacate their houses'. Apart from site disputes with railways, religious structures left two projects in limbo, the RTI reply said.
"The excuse of labour shortage due to the pandemic is not plausible as it cannot be applied since private construction companies are not facing such an issue across the city," Zaccheus told TOI. Another RTI reply received by him said that till May 8, the government had utilised Rs 10,800 crore out of the sanctioned Rs 14,786 crore.
Experts in the real estate sector said the labour shortage issue is not as severe as it was in 2020 and 2021. "Post-Covid, there are three major trickle effects that are still prevailing. The construction labour capacity has not recovered completely as many who returned home during Covid-19 have decided to settle down in their villages. Secondly, the cost of labour has increased substantially due to the shortage and finally, many projects are still facing severe delays," Ashwin Rao, managing partner of Akshara Group, told TOI.
Source link