Top Stories
Telangana gets 5 lakh Covid-19 doses after 1 lakh cross expiry date | Hyderabad News
HYDERABAD: Telangana has recently received five lakh doses of Covid-19 vaccine after negotiations with the Centre.
The state government has been pursuing the request with the Centre because the rush at the vaccine centres was negligible, especially for precaution doses, and approximately a lakh doses got wasted as their expiry date lapsed.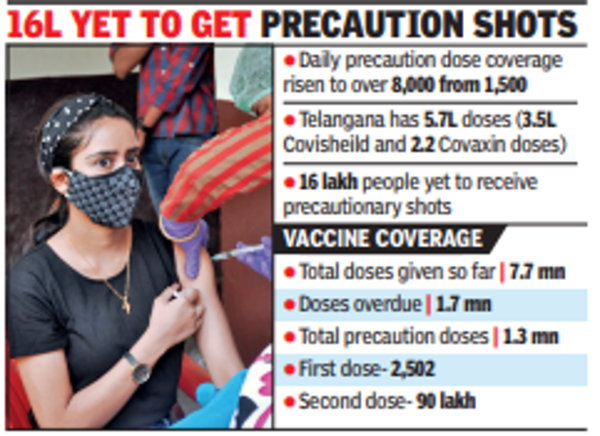 Concerned about lack of interest, the state government has accelerated various measures to encourage people to take the vaccine and the daily precaution dose coverage has now risen to over 8,000 from around 1,500 just a few days ago.
Telangana currently has 5.7 lakh doses (3.5 lakh Covisheild and 2.2 Covaxin doses) in its kitty. Since the state's precaution drive began, it has been slow, and many were due for it. For the first time on a daily basis, the drive for precautionary doses has risen to 8,000. Nearly 16 lakh people, who are eligible, were yet to receive the precautionary shots.
Sensing people's reluctance, health officials took action and began following up by calling those who were overdue and maintaining a list.
Previously, at vaccine centres, vials were opened only when more than 10 or 15 people were ready to receive the vaccine, in order to avoid wasting vials. "Now, we have extra caution, even if one person comes, we are opening the vial and immediately sending the doses remaining in the vials to a nearby centre so that it can be used there. It takes a lot of time and planning, but we are ensuring that people who walk in for vaccine get the shots," an officer said.
Each vaccine vial has 15 to 20 doses and once opened must be used within a set time frame.
"Unfortunately, even after two years of the pandemic, many people still believe that taking vaccine when there is a spike helps, but it is better to take shots before the spike happens, as it takes some time to get protection from the vaccine," a top government official said.
Source link