Top Stories
telangana: Lab to road: Telangana ready for realtime V2X test drive | Hyderabad News
HYDERABAD: With the Vehicle-to-Everything (V2X) promising to warn vehicles on obstacles that cameras and radars can't catch, the Suzuki Group-IITH joint research project assures a safer, smoother driving with swift alerts on jaywalkers, while communicating with traffic lights.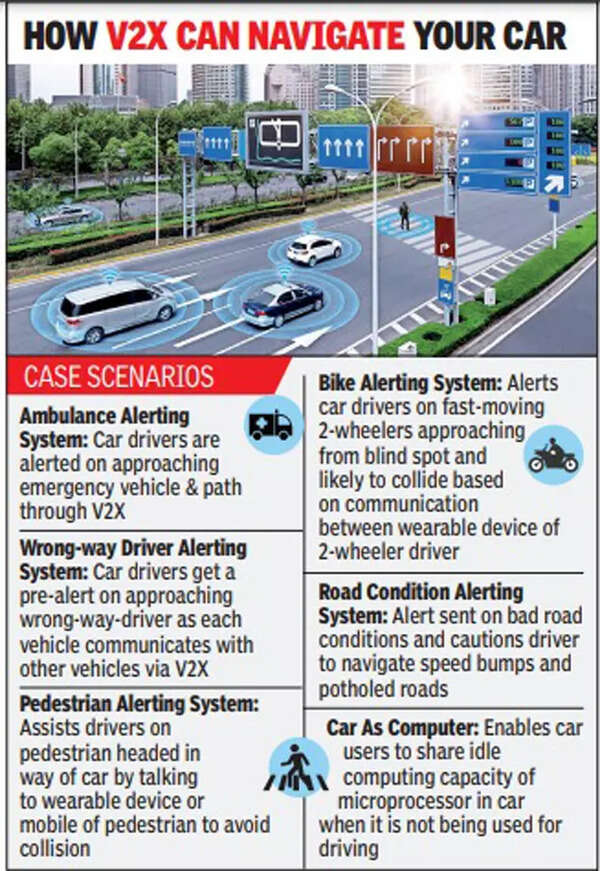 The key advantage of this V2X communication technology is that it can connect a vehicle to another vehicle (V2V), to a pedestrian (V2P), to a network (V2N) or even infrastructure (V2I), even when they are not visible, like when they are around the corner or in case there is another car or building in between, said Tarun Aggarwal, executive director-R&D, Maruti Suzuki.
Pointing out that V2X tech works on shorter distances of around 1km and uses a frequency band of 55 MHz-59.25MHz, Aggarwal said, a real-life scenario is still many years away as it would need a complete ecosystem of appropriate telecom infrastructure, road infrastructure, traffic management systems and rules as well as driver education, among other things.
He said, the first step was development of use cases, then putting in an alarm or alert system for the driver and the next step would be advanced driver assistance systems (ADAS). "V2X is a futuristic technology that is evolving and being developed, tested and studied even in advanced countries like Europe and Japan," he added.
Prototype vehicles, which have been equipped with V2X devices made by US-based companies like Soar Robotics and has software and hardware support from Capgemini. Other collaborators include Oxford University, Boinc and Max Planck.
Telangana industries & IT principal secretary Jayesh Ranjan said as the experiment began in Hyderabad, the Telangana government would be happy to help them conduct an actual real-world trial over a period of 3-6 months in one of the city streets, where about 100 regular commuters, pedestrians and even hospital ambulances can be motivated to volunteer to carry these V2X devices during their commute. "We need to replicate it in a real street with real people to display conviction that it's an important project.," Ranjan said.
Source link