Top Stories
Telangana retains fourth spot on Innovation Index | Hyderabad News
HYDERABAD: Telangana, which bagged big-ticket investments through the Covid-19 crisis and is acknowledged as a leader in innovation and emerging technologies, has managed to hold on to the fourth spot in the India Innovation Index 2020 rankings that were released by NITI Aayog on Wednesday.
What is surprising is that Telangana, which stood fourth in the Innovation Index 2019 rankings among major states, could not push past states like Karnataka, Maharashtra and Tamil Nadu this year despite having improved its scores on various parametres where it fared badly last year.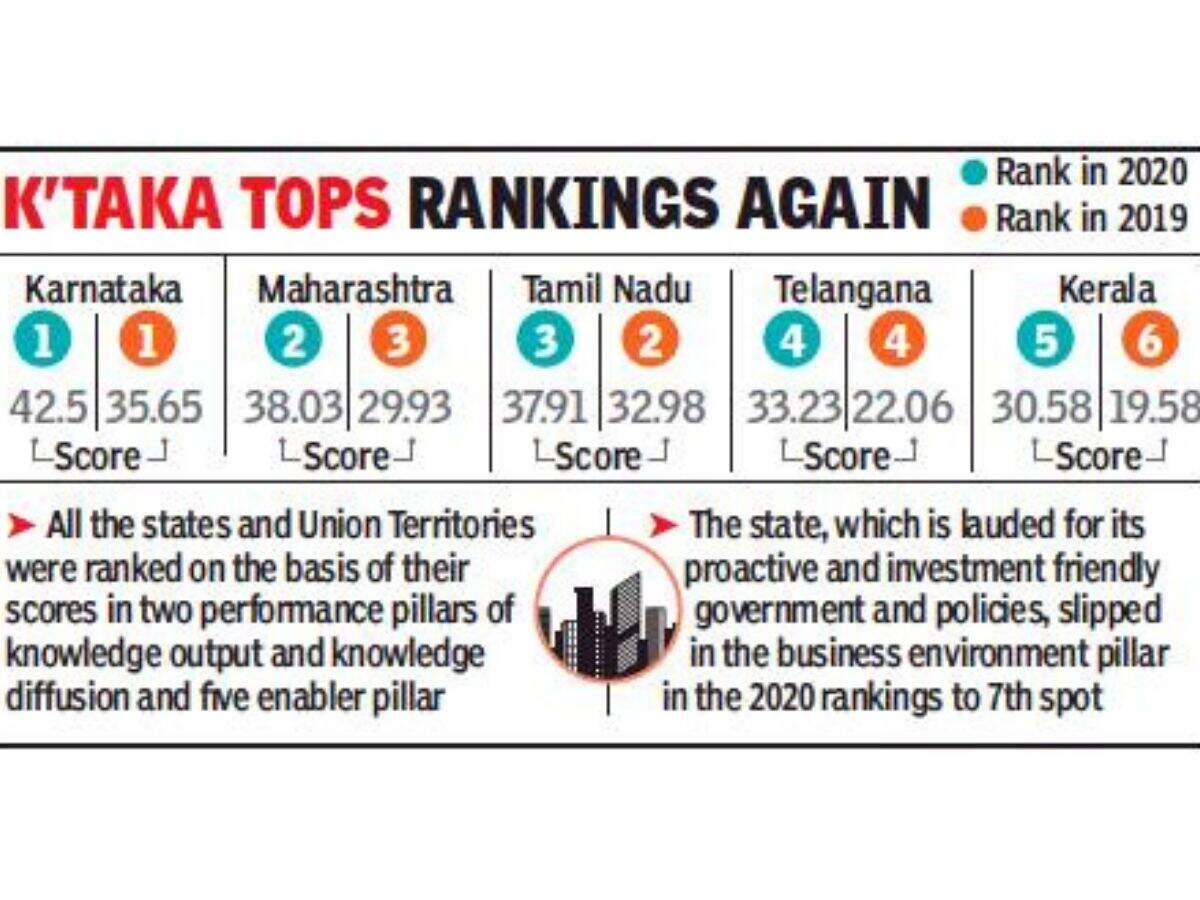 Telangana has been ahead of other states in terms of fostering innovation with initiatives like the country's largest incubator T-Hub and the first exclusive women's incubator WE-HUB.
All the states and Union Territories were ranked on the basis of their scores in two performance pillars of knowledge output and knowledge diffusion and five enabler pillars of human capital, investment, knowledge workers, business environment and safety & legal environment.
This year, Telangana retained 4th spot in the overall performance front despite improving its rankings in the pillars of knowledge output and knowledge diffusion to 2nd and 4th spot as compared to 4th and 5th spot respectively last year.
It was also able to improve its standing in the overall enabler rankings to 7th from 9th but lagged behind other states in pillars like safety & legal environment, human capital, investment and business environment.
Surprisingly, the state, which is lauded for its proactive and investment friendly government and policies, slipped in the business environment pillar in the 2020 rankings to 7th spot behind states like Kerala, Tamil Nadu, Andhra Pradesh, Maharashtra, Gujarat and UP from 4th spot in 2019.
On the investment front too, Telangana's ranking slipped one spot to 8th this year from 7th in 2019 despite bagging one of the largest investments of $2.77 billion from Amazon Web Services and attracting marquee names into the state.
Though the state improved its scores on the safety & legal environment aspect to move up to 9th spot from 16th spot (behind states like Bihar, UP, Jharkhand and Chhattisgarh) last year, it was obviously not enough to help it move up the Innovation Index rankings this year.
Source link