Top Stories
Telangana: Telangana Experiences Winter Chill After Brief Hiatus – Latest News | Hyderabad News
HYDERABAD: With winter having set in, temperatures in Telangana have dropped across various districts.
As per data from Telangana State Development and Planning Society (TSDPS), on Saturday, two districts recorded low temperatures with Sirpur in Asifabad having recorded 13.2°Celsius, the lowest in the state, followed by Adilabad having recorded 14.3°C.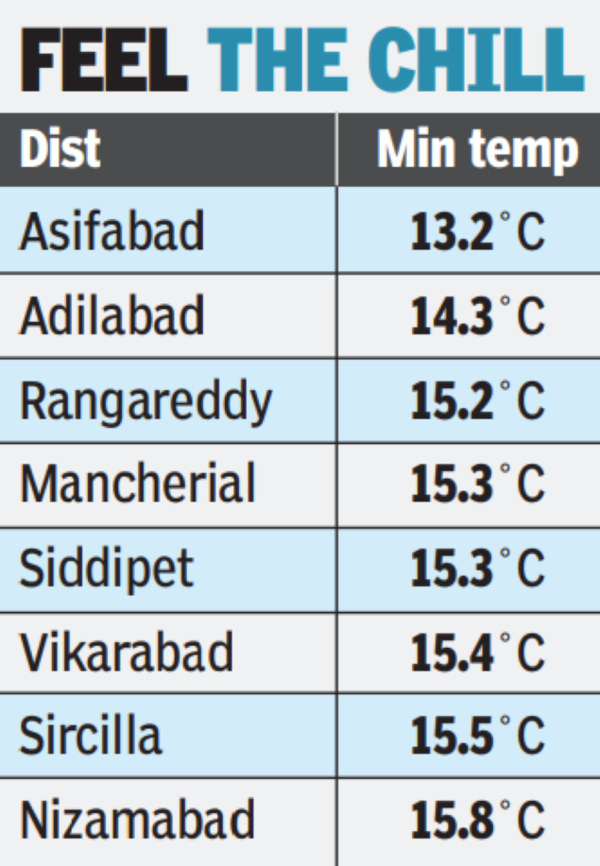 Meanwhile, other districts in the state recorded minimum temperatures between 15°C-18°C. Previously on Friday, the lowest recorded temperature was 12.1°C in Asifabad and 14 of the 33 districts witnessed tempeartures drop below 15°C.
Within GHMC, the lowest recorded temperature was 17.1°C at Rajendranagar, followed by Patancheru at 17.5°C. Other areas also experienced temperatures below 20°C with slight foggy conditions early in the morning and late evening.
However, temperatures are likely to drop further in the state with the strong Northerly winds blowing toward the south. The India Meteorological Department (IMD) has predicted dry conditions across the state which could be a precursor to colder nights within the next five days, said officials.
Source link