Top Stories
Telangana: Three more Inter students end lives for failing in exams | Hyderabad News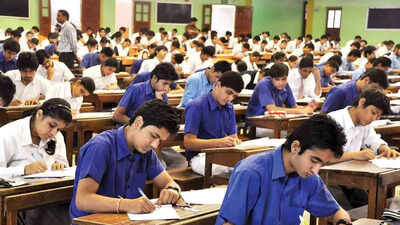 HYDERABAD: A day after Intermediate results were announced, three more cases of student suicides came to light from Khammam and Jagtial districts on Wednesday. A fourth student, who had appeared for the examination, was also found dead under mysterious circumstances at Bhadradri Kothagudem district.
Earlier on Tuesday, soon after the Intermediate results were announced, three suicides by failed students were reported in the state. Another student from Khatedan had a fatal fall from the second floor of a building.
In the first case reported on Wednesday, local police said 17-year-old Yaganda Nirosha took her life jumping into a well after she learnt about failing in the exam. The incident took place at Stambampalli village in Jagtial's Velgatur mandal. She was alone at home, while her family members went for a wedding in a nearby village.
As Nirosha was not answering her phone, family members rushed back home at 7 pm. When they did not find her at home they launched a search and found her footwear next to a well in their agricultural fields. The family members immediately searched for her body and fished it out from the well in the night," said Velgatur SI, Naresh Kumar. Nirosha was Intermediate second year student and had failed in two subjects. She did not leave behind any suicide note, the police said.
On Tuesday afternoon, MPC first year student, S Sai from Jujjlaraopeta village near Kusumanchi in Khammam district also committed suicide by jumping into a well. Police said the 17-year-old failed in three subjects and he too did not leave behind any suicide note.
Another student K Karthik, 17, a CEC first year student from Khammam town, committed suicide by hanging himself at his house. "Karthik failed in Sanskrit
While K Sathi Babu of Ganeshpadu village in Dammapet mandal of Bhadradri Kothagudem district died under mysterious circumstances on Tuesday afternoon, after the results were announced, his family members maintained that the teenager died of a heart attack. Police said they are unaware if he had failed in the exam.
FOLLOW US ON SOCIAL MEDIA
FacebookTwitterInstagramKOO APPYOUTUBE
Source link