Top Stories
Telangana: Warangal CP to supervise lawyer couple's murder probe | Hyderabad News
HYDERABAD: In view of the various allegations of inaction against Ramagundam police in the backdrop of the murder of lawyers Vamana Rao and his wife PV Nagamani, a decision was taken by the top brass of Telangana police that the investigation into the case will now be directly supervised by deputy inspector general of police-cum-Warangal commissioner of police Pramod Kumar and not by Ramagundam police commissioner V Satyanarayana, who faced criticism from several advocates and opposition parties.
Recently, an audio clip of Nagamani expressing her helplessness in getting police security for Sriramaswamy and Gopalaswamy temple in Gunjapadugu village despite bringing the issue to the notice of all policemen, including the police commissioner, to Ramagundam DCP Ravinder, had gone viral. She said that Kunta Srinivas, the prime accused in the murder case, and others, allegedly took over the temple committee illegally.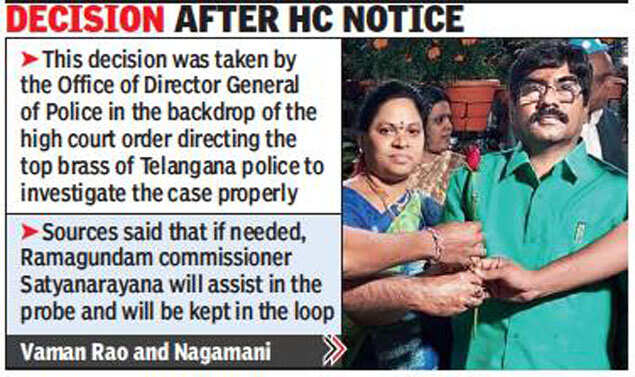 When contacted, senior officials of Telangana police confirmed the new development, saying that Pramod Kumar has been assigned the task of closely monitoring the investigation. Further, policemen of Ramagiri and Manthani police stations were told to not investigate the case.
The decision was taken by the Office of Director General of Police in the backdrop of the high court order directing the top brass of Telangana police to investigate the case properly. "The decision was taken as some people felt that a few local people can influence the local police. So cops at local police stations were barred from investigating the case," sources in Telangana police told TOI.
However, the sources said that if needed, Ramagundam commissioner Satyanarayana will assist in the probe and will be kept in the loop.
Source link