Top Stories
TRS and BJP govts are trying to divert the attention of people from its failures: Congress MP N Uttam Kumar Reddy | Hyderabad News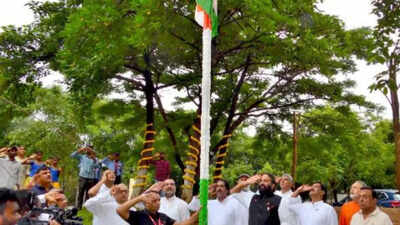 Congress MP N Uttam Kumar Reddy hoisted the national flag and participated in Azadi Gaurav yatra on Monday.
HYDERABAD: Congress MP N Uttam Kumar Reddy on Monday charged the BJP and TRS governments of indulging in blame game against each other only to divert the attention of the people from the failures of their respective governments at the centre and in Telangana.
While the BJP government at the centre is responsible for the stunt in the growth of India's economy, the TRS government has plummeted the financial situation of Telangana by taking its debts to nearly Rs 5 lakh crore, alleged Uttam.
He was speaking after hoisting the national flag here and his participation in the 'Azadi Ka Garvav Yatra' along with AICC Secretary Nadeem Javed, minority cell chairman Shaik Abdullah Sohail among others.
Uttam said KCR, in his independence day address should have explained to the people of Telangana the present economic condition of the state. "With debts of nearly Rs 5 lakh crore and if the state government fails to get fresh loans, it will not be in a position to pay salaries or pensions of its employees. KCR-led TRS supported the Modi-led BJP government at the centre for the last eight years but failed to get any major benefit for Telangana," he alleged.
Stating that the Congress was in the forefront of getting freedom to the country and gave statehood to Telangana, Uttam called upon the people to vote the party to power at the centre and in telangana to ensure growth, development and prosperity of India including Telangana.
FOLLOW US ON SOCIAL MEDIA
FacebookTwitterInstagramKOO APPYOUTUBE
Source link