Top Stories
Verandah Turns Classroom At Primary Schools In City | Hyderabad News
HYDERABAD: Despite the construction of a new building halfway through, students of two primary schools in Hussaini Alam degree college complex continue to sit on mats laid outside in the verandah and study owing to administrative apathy as the work has not been completed in 3-4 years.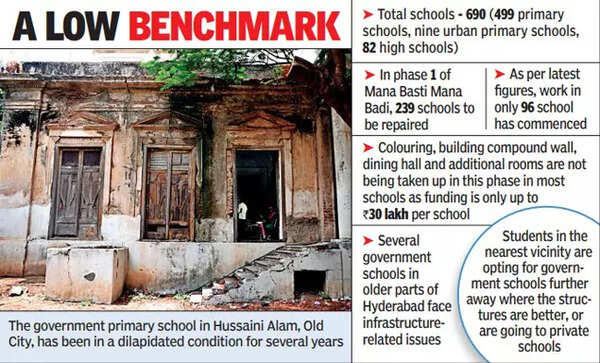 The building has no doors or fittings done now and has turned into a dumpyard.
"We have been given one room in the entire building where students from class 1 to 5 have to be taught. Since it ends up becoming noisy and difficult for anyone to concentrate, we sit in the verandah," said a teacher on condition of anonymity.
Another primary school in the same complex is plagued with a similar issue. Set up in a dilapidated room with broken desks, chairs and administrative records, the teacher and the 30 students from various classes sit cramped for space to move. They too have laid out a mat outside for smaller children to sit.
The teachers speak about the half-made building with two large rooms left abandoned right next to the current buildings and how it has turned into a dumping yard.
This is not the only example, several government schools in older parts of Hyderabad face such infrastructure-related shortcomings owing to which students in the nearest vicinity are opting for government schools further away where the structures are better, or for private schools.
As a result, the strength in other schools is impacted. "Already, the rooms in this building are not sufficient. With English medium also starting alongside Telugu medium, there is no way that we can accommodate both. We are advising parents to move to the government school near zoo park which is bigger," said a teacher from a government school in Purana Pul.
According to Hyderabad district education office (DEO), only 230 of the total 690 government schools in the district are currently being renovated under 'Mana Basti Mana Badi' scheme of the government this year of which only 96 schools have seen a commencement of work and others have only submitted estimates. In this as well, majority of the work is for electrical fittings and toilets and other six components of colouring, building compound wall, dining hall and additional rooms are not being taken up in this phase in majority of the schools as the funding is only up to 30 lakh per school.
Source link